Books
Interested in purchasing one of Gary's books? Use the links below to browse Gary's books at various online retailers.
---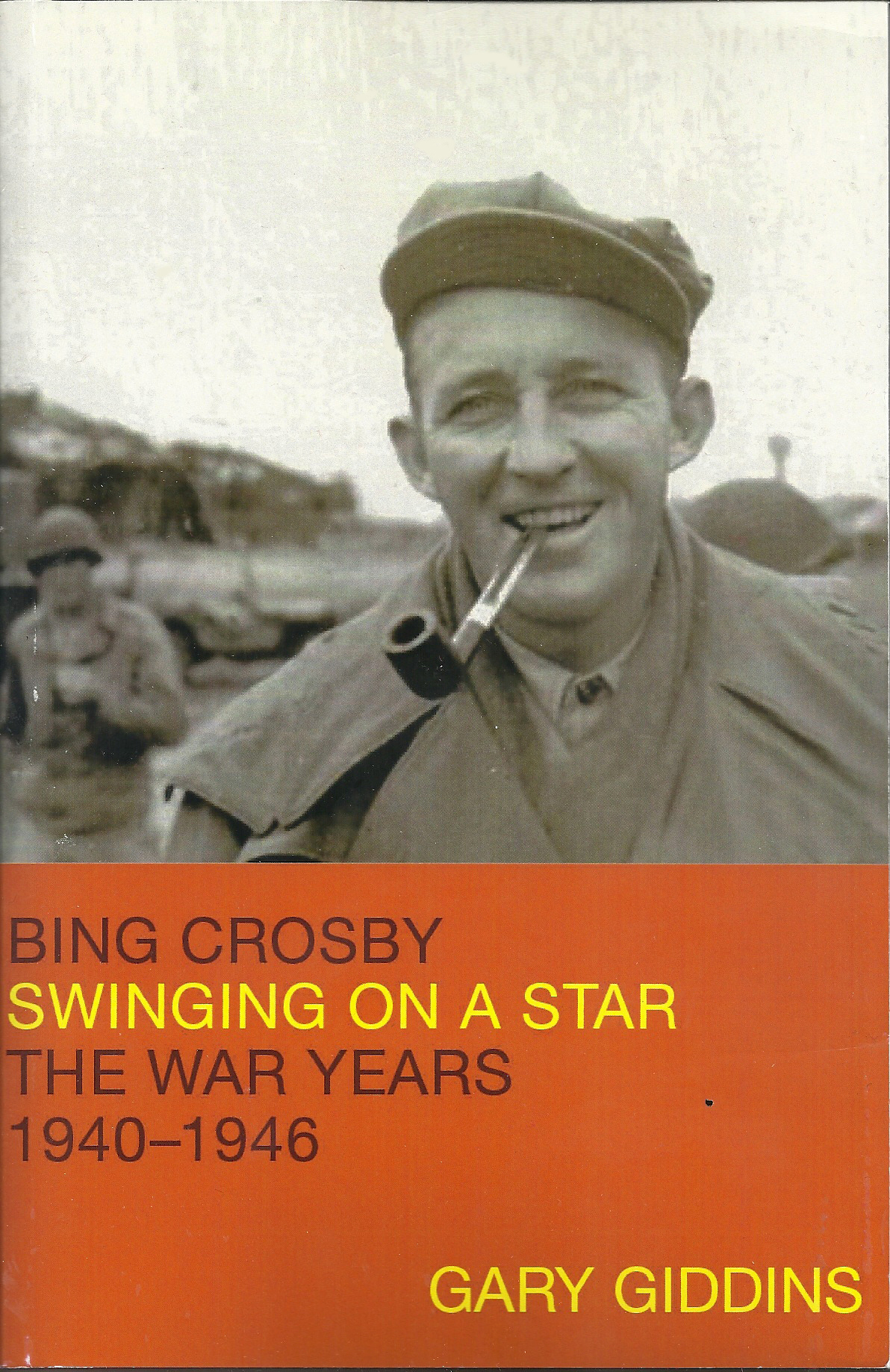 Bing Crosby – Swinging on a Star – The War Years, 1940-1946 (2018)
Gary Giddins presents the second volume of his masterful multi-part biography.  Bing Crosby dominated American popular culture in a way that few artists ever have. From the dizzy era of Prohibition through the dark days of the Second World War, he was a desperate nation's most beloved entertainer. But he was more than just a charismatic crooner: Bing Crosby redefined the very foundations of modem music, from the way it was recorded to the way it was orchestrated and performed.   In this much-anticipated follow-up to the universally acclaimed first volume, NBCC Winner and preeminent cultural critic Gary Giddins now focuses on Crosby's most memorable period, the war years and the origin story of White Christmas. Set against the backdrop of a Europe on the brink of collapse, this groundbreaking work traces Crosby's skyrocketing career as he fully inhabits a new era of American entertainment and culture. While he would go on to reshape both popular music and cinema more comprehensively than any other artist, Crosby's legacy would be forever intertwined with his impact on the home front, a unifying voice for a nation at war. Over a decade in the making and drawing on hundreds of interviews and unprecedented access to numerous archives, Giddins finally brings Bing Crosby, his work, and his world to vivid life — firmly reclaiming Crosby's central role in American cultural history. "The best thing to happen to Bing Crosby since Bob Hope." (WSJ)"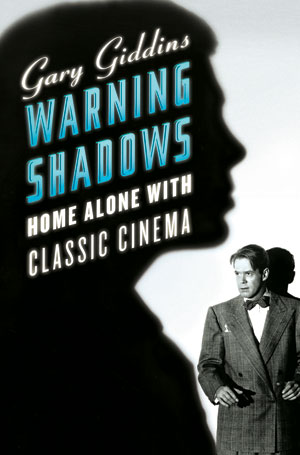 Warning Shadows: Home Alone with Classic Cinema (2010)
Critic Giddins gleans fresh insights from novel juxtapositions in these essays drawn from his newspaper reviews of DVD collections. The DVD collections' raison d'etre is to group movies around organizing principles, which here run the gamut from Hitchcock retrospectives to Disney nature docs to Hollywood literary adaptations to charming oddities like a collection of silents starring Harry Houdini. The downside to reviewing them is that Giddins must glance at lesser works with little to recommend them, though he'll often notice a fine performance, catchy score or radiant lighting scheme gleaming through the dross. The payoff is the themes that emerge as he sifts a wealth of comparisons and contrasts. These range from the failings of Rodgers and Hammerstein (The Sound of Music is the happiest of all musicals involving Nazis) to keen evocations of a movie star's aura, the casually authoritative stance of an Edward G. Robinson or the mulish twisting between bashful affability and cries de coeur of a Jimmy Stewart.Giddins is the ideal couch companion, erudite but relaxed and witty; his perceptive commentary shows that it's not what you watch, it's how you watch it. (Reed Business Information)


Jazz (2009)
The story of jazz for the general reader as it has never been told before, from the inside out: a comprehensive, eloquent, scrupulously researched page-turner. In this vivid history of jazz, a respected critic and a leading scholar capture the excitement of America's unique music with intellectual bite, unprecedented insight, and the passion of unabashed fans. They explain what jazz is, where it came from, and who created it and why, all within the broader context of American life and culture. Emphasizing its African American roots, Jazz traces the history of the music over the last hundred years. (Norton)
Jazz (Textbook Edition)
Available from W.W. Norton and Company.
Jazz – Essential Listening
Available from W.W. Norton and Company.

Natural Selection: Gary Giddins on Comedy, Film, Music, and Books (2006)
Giddins is that rare creature, the deadline-driven journalist with a distinctive voice. This collection also reveals that, while best known for his award-winning writing on jazz, his range is really quite remarkable. Besides jazz, he writes authoritatively about film noir, silent comedy, and contemporary fiction; about Jack Benny and Friedrich Durrenmatt; and, in intelligent, heartfelt reflections on a youth spent reading it, that late but seldom lamented comic-book series, Classics Illustrated. (American Library Association)

Weather Bird: Jazz at the Dawn of Its Second Century (2004)
In 146 lively essays, articles and reviews, most of them written for his Weather Bird column in the Village Voice, critic Giddins surveys the jazz scene from 1990 to 2003. He covers concerts, recordings and jazz festivals, and considers new artists as well as older singers and instrumentalists (e.g., Doc Cheatham, Rosemary Clooney, Benny Carter) and those long gone but brought to life on reissued recordings (e.g., Billie Holiday, the Boswell sisters and especially Louis Armstrong, whose seminal place in jazz is underscored by the book's title, which comes from the famous Louis Armstrong and Earl Hines duet). (Reed Business information)

Bing Crosby: A Pocketful of Dreams-the Early Years, 1903-1940 (2001)
Jazz critic Giddins's latest subject will probably surprise those who think of Bing Crosby (1903-1977) as "a square old man who made orange-juice commercials" and sang "White Christmas" every year on TV. Giddins reminds us that, in the 1920s and '30s, Crosby was a very jazzy singer indeed: "the first white performer to appreciate and assimilate the genius of Louis Armstrong." It's a perceptive portrait of Crosby as a man, a singer, a radio personality and a budding movie star in the loose, creative years before he hardened into a monument. Giddins's account of Crosby's middle-class, Irish-American youth in Washington State astutely stresses this singer's years of Jesuit schooling, which made him unusually well educated for a performer and grounded him in values that contributed to the modesty, reserve and self-confidence American audiences found so appealing. Tracing Crosby's rise through vaudeville, Paul Whiteman's band, short films and radio shows, Giddins also offers a mini-history of technology's impact on popular music, most notably Crosby's famous ability to use a microphone to create a more intimate singing style. (Reed Business Information)Also, purchase the Audible Audio Edition from Amazon.com.

Visions of Jazz: The First Century (1998)
Visions of Jazz is not a reference book; rather, it is (to date, at least) the definitive compendium by the most interesting jazz critic now at work…. He knows his subject, his prose is interesting and graceful, his judgments are measured and fair, and the only camp of which he is a member is his own. (Washington Post)

Faces in the Crowd: Musicians, Writers, Actors, and Filmmakers (1992)
Pop-culture critic Giddins presents a miscellany of essays on 20th-century artists and cultural figures. (Publishers Weekly)

Satchmo: The Genius of Louis Armstrong (1988, rev. 2001)
Satchmo, of course, is trumpet great Louis Armstrong. This photo-rich biography explores Armstrong's career from his humble beginnings to his eventual jazz legend status. The text is accompanied by numerous color and monochrome images and is capped with a discography. (Library Journal)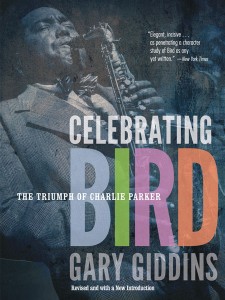 Celebrating Bird: The Triumph Of Charlie Parker (1986, rev. 2013)
A detailed and memorable biographical portrait of the jazz alto saxophonist.





Rhythm-a-ning: Jazz Tradition and Innovation (1985)
In a companion to his collections Riding on a Blue Note and Faces in the Crowd, Gary Giddins has assembled a mosaic of pieces that provide an essential guide to the jazz world. Moving with ease from sweeping surveys of jazz history to precise, vivid assessments of individual performers including Thelonius Monk, the Marsalis brothers, Ornette Coleman, and David Murray, Giddins demonstrates once again why he is lauded as "the best jazz critic now at work" (Newsweek).

Riding on a Blue Note: Jazz and American Pop (1981)
"Nobody writes with greater style and authority about American music than Gary Giddins. The great musicians are all here-from Professor Longhair to Charlie Parker-and it's a pleasure to enjoy their company with a fine writer." (Pete Hamill)